Shipping & Returns
Shipping & Returns
To the U.S
For most in-stock items, your order will arrive within these delivery estimates based on your location and selected shipping speed.
Shipping Times to the Contiguous U.S.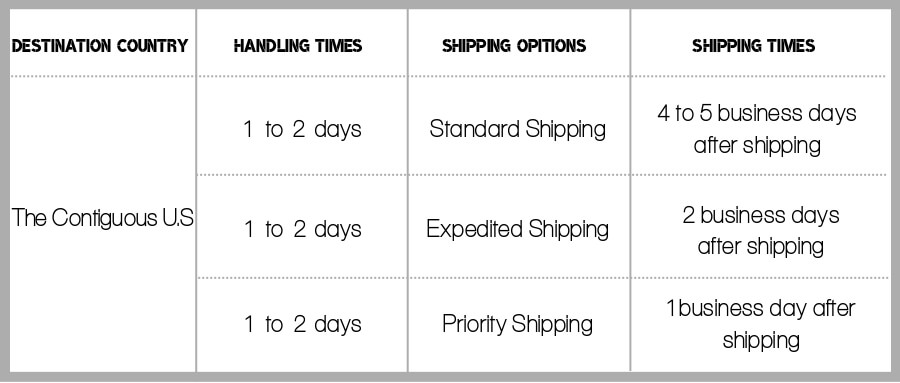 Note: In many areas, Saturday and Sunday delivery may be available. If weekend delivery is available to your destination, it will be specified on the product page and during checkout. Delivery estimates for FREE Prime Two-Day shipments to destinations that don't have weekend delivery are based on two business day transit times, not including Saturday or Sunday.
Shipping Times to Alaska and Hawaii.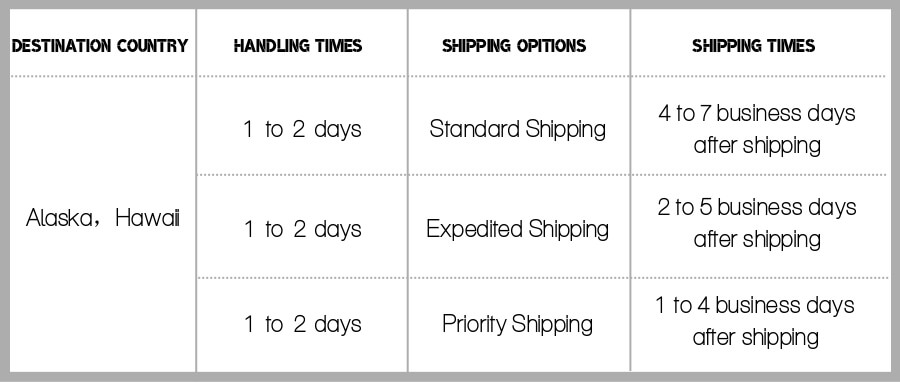 Shipping Times to other Country of the U.S.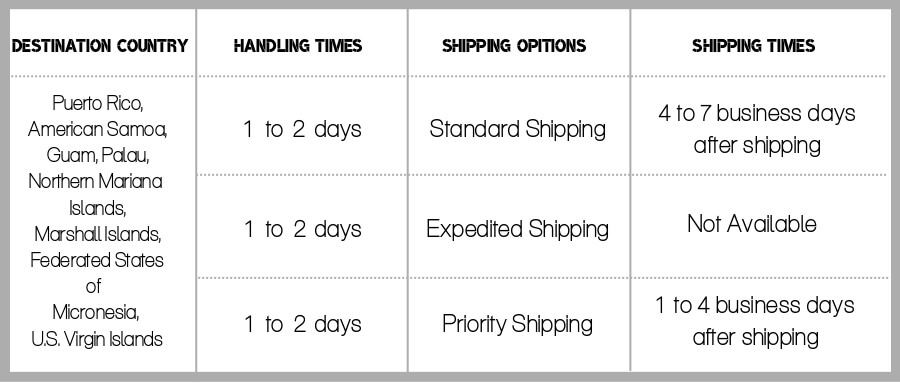 Few items are shipped directly from the manufacturer (these items are noted on the product page) and may take up to 5 to 12 business days for delivery. Please allow additional time for monogrammed items. Include your daytime phone number and a street address when ordering. If we need to ship your order in parts, delivery will be charged on a pro-rated basis.

Orders from Canada, Europe, Asia, Australia may take up to 7 to 12 business days for delivery. And the fulfillment fees are based on your location, so when you are from these countries, contact us first, we need to check the costs and if the carrier can get to you.
When orders are from U.S. and Canada, if you're not satisfied with a purchase, for any reason, S·Lattye will gladly offer you an exchange or refund within 30 days of receipt (excluding delivery and service charges). After 30 days, no return will be accepted, with the exception of Lifetime Guarantee.
Please send to the address specified on your packing slip. If you do not have a packing slip, please contact us, we will provide you with the closest inventory address.
Note: Depending on the method you use to return your package, please allow up to 14 calendar days from the day you returned your package for your return to be processed and your account credited.
When orders are from other countries, due to the long transnational distance and import costs would be huge, we cannot accept a return yet, S·Lattye thanks for your kindly understanding.
How to contact us:
Website Message