Terms of Use
Terms of Use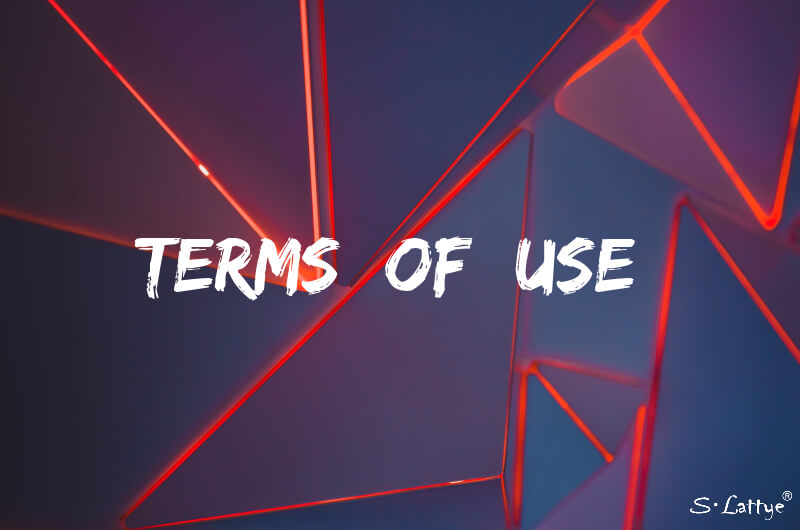 PLEASE READ THE FOLLOWING TERMS OF USE CAREFULLY BEFORE USING THIS WEBSITE. 
The S.lattye "Terms of Use" govern the use of this website and the purchase of any products from it. The website is owned and operated by slattye.com.
In the context of this website, "we," "our" and "us" means www.slattye.com and "you" and "your" means you, the user or customer of this website. If you do not agree with these terms of use, please do not use this site.
The following Terms of Use and any other rules posted on our www.slattye.com constitute an agreement between us and you, the visitor, governing your access and use of all content and functionalities available at the s.lattye website, related micro-sites accessed through the URL www.slattye.com, related domain names, and any other website or micro-site of S.lattye. (collectively the "Site").
By visiting the Site, you are accepting and consenting to the practices described regarding Use. We may modify the Terms of Use from time to time, and your continued use of this Site (or any of our other Sites) following such change shall signify your agreement to be bound by the modified Terms of Use.
If you require more assistance, you can contact us by emailing [email protected], and you will receive a response within 48 hours.
COPYRIGHTS, TRADEMARKS, AND CONTENT
The entire content published on this Site, including but not limited to text, graphics or code is copyrighted under copyright laws, and is the sole property of www.slattye.com. Permission is granted to electronically copy and print hard copy portions of this Site for the sole purpose of placing an order with www.slattye.com. Without obtaining our prior written consent, any other use, including but not limited to the reproduction, modification, distribution, display or transmission of the content of this Site is strictly prohibited. 
You acknowledge and agree that all copyright, designs, the "look and feel" of the Site, trademarks and all other intellectual property and material rights relating to the content as herein described, including slattye.com software and all HTML and other code contained in this Site, shall remain at all times vested in slattye.com and/or are the property of their respective owners. All such content, including third party trademarks, designs, and related intellectual property rights mentioned or displayed on this Site are protected by the laws of the UK. You are permitted to use the content only as expressly authorized by slattye.com and its third party licensors. Any reproduction or redistribution of the above-listed content is prohibited and may result in civil and criminal penalties. 
In addition to the Intellectual property rights mentioned above, "Content" is defined as all information such as the "look and feel" of the Site, data files, graphics, text, photographs, drawings, logos, images, sounds, music, video or audio files on this Site. S.lattye tries to ensure that the information on this site is accurate and complete. We do not warrant that the Site's Content is accurate, error-free. Without limiting the foregoing, everything on the Web Site is provided to you "as is" and "as available" without warranty of any kind, either expressed or implied, including, but not limited to, the implied warranties of merchantability, satisfactory quality, fitness for a particular purpose, reasonable care and skill, or non-infringement. You bear the entire risk of the completeness, accuracy or usefulness of any Content found on this Site. slattye.com reserves the right to withdraw, temporarily or permanently, any Content from this Site at any time and for any reason. Removal may be immediate and without notice. You confirm that slattye.com is not liable to you or any third party for any such withdrawal.
ELIGIBILITY TO PURCHASE AND ORDER
To make purchases on the Site, you will be required to provide your details. In particular, you must provide your real name, phone number, e-mail address and other requested information as indicated. Furthermore, you will be required to provide payment details that you represent, and warrant are both valid and correct, and you confirm that you are the person referred to in the billing information provided.
The Site is available only to individuals and others who meet the Site's terms of eligibility, who have been issued a valid credit/debit card by a bank acceptable to PayPal, and who have authorized us to process a charge or charges on their credit/debit card in the amount of the total purchase price for the merchandise which they purchase.
By making an offer to purchase merchandise, you expressly authorized us to perform credit checks and, where slattye.com feels necessary, to transmit or to obtain your credit card information or credit report information (including any updated information) to or from third parties solely to authenticate your identity, to validate your credit/debit card, to obtain an initial credit card authorization and/or to authorize individual purchase transactions.
Furthermore, you agree that we may use the Personal Information provided by you to conduct appropriate anti-fraud checks. Personal Information that you provide may be disclosed to a credit reference or fraud prevention agency, which may keep a record of that information.
We reserve the right not to accept your order in the event, for example, that we are unable to obtain authorization for payment, that shipping restrictions apply to a particular item, that the item ordered is out of stock or does not satisfy our quality control standards and is withdrawn, or that you do not meet the eligibility criteria set out within the Terms of Use.
Furthermore, we may refuse to process a transaction for any reason or refuse service to anyone at any time at our sole discretion. We will not be liable to you or any third party because of our withdrawing any merchandise from the Site whether or not that merchandise has been sold, removing, screening or editing any materials or content on the Site, refusing to process a transaction or unwinding or suspending any transaction after processing has begun.
Please refer to our Privacy Policy page for further information about how we use your data. We have the right to check that your payment is legally allowed. Also, if you pay for an item that is out of stock, we'll keep in touch about the details.
SHIPPING COSTS 
Click here to know more information.
CHANGES TO TERMS
We reserve the right to make changes to these Terms of Use at any time. You should check these Terms of Use regularly for such changes.
SECURITY & PAYMENT
Your financial & identity protection is our most important priority. That is why we provide the payment method -- PayPal, which is one of the safest & most secure payment processing systems in the world.
We take reasonable care to make our Site secure. All credit/debit card transactions on this site can be processed by PayPal, a secure online payment gateway that encrypts your card details in a secure host environment. We will not store your credit/debit card details on our systems as PayPal processes it independently of S.lattye. PayPal ensured all transactions would be fully encrypted and only used to process card transactions which you have initiated. To help ensure that your shopping experience is safe, simple and secure S.lattye and PayPal uses Secure Socket Layer (SSL) technology.
Furthermore, we take reasonable care, in so far as it is in our power to do so, to keep the details of your order and payment secure, but in the absence of negligence on our part we cannot be held liable for any loss you may suffer if a third party procures unauthorized access to any data you provide when accessing or ordering from the Site.
Your financial transactions with us are at the highest level of safety possible on the Internet. We don't see or keep your billing information.
PROMOTION CODES
Promotion codes are non-transferable and there is no cash alternative. Furthermore, they cannot be used in conjunction with any other promotion code or offers and must be redeemed by the date published, if provided.
Promotion codes cannot be exchanged for cash.
GENERAL LEGAL TERMS
Complete Terms: the Terms of Use constitute the whole legal agreement between you and slattye.com and govern your use of the Services. Notwithstanding the preceding, you understand that slattye.com may make changes to the Terms of Use from time to time. When these changes are made, slattye.com will make a new copy of the Terms of Use available at https://www.slattye.com. You agree that slattye.com is under no obligation to provide you with notices regarding changes to the Terms of Use. You understand that it is your responsibility to check the Terms of Use regularly for changes.
Confidentiality: You understand that slattye.com grants the operators of public search engines permission to use spiders to copy materials from the site for the sole purpose of creating publicly available searchable indices of the materials, but not caches or archives of such materials. slattye.com reserves the right to revoke these exceptions either generally or in specific cases.
Liability in the Event of Breach: You agree that you will comply with all of the provisions of the Terms of Use. You understand that you are solely responsible for any breach of your obligations under the Terms of Use and the consequences of any such breach.
Severability: If any court of law, having the jurisdiction to decide on this matter, rules that any provision of these Terms of Use is invalid, then that provision will be removed from the Terms of Use without affecting the rest of the Terms of Use. The remaining provisions of the Terms of Use will continue to be valid and enforceable.
Violation of Terms of Use: Please report any violations of the Terms of Use by emailing [email protected].
Independent Relationship: You and slattye.com. are independent contractors, and these Terms of Use, including but not limited to submission or distribution of any Content you created, will not, in whole or in part, establish any relationship of partnership, joint venture, employment, franchise or agency between you and slattye.com.Neither party will have the power to bind the other or incur obligations on the other's behalf without the other's prior written consent. Neither party is authorized to act as an agent nor representative of the other or for or on behalf of the other party in any capacity other than as expressly outlined in the Terms of Use. Neither party shall in any manner advertise, represent or hold itself (or any of its agents) out as so acting or being authorized so to act, or incur any liabilities or obligations on behalf of, or in the name of, the other party unless specifically provided for regarding Use.
Unplanned things can happen – we do our best daily to stay awesome, and we are not responsible due to unforeseen circumstances.
RESOLVING YOUR CONCERNS
If you have any concerns with or do not understand, our Terms of Use, we welcome you to contact us and we will make every effort to address and resolve your concerns. Feel free to contact us by email address [email protected], and we will respond within 48 hours.